Getting Rid of Pet Stains and Odors, For Good
If you have pets, you will undoubtedly have to clean up accidents, whether regularly or unexpectedly. It's important to work quickly when you notice a mess, but no matter how fast you act there is likely to be some odor or stain left behind. Often you will think you have removed all of the stain, but once the area dries you can see a trace of darkness or pick up that telltale odor. No one wants to live in a smelly home, not even your pet. But is total cleanup really possible?
Fortunately, technology has improved greatly in recent years. No longer are you stuck with the prospect of pulling up and replacing the carpet and underlayment to remove odors. You have a variety of products and processes to get your flooring and upholstery looking and smelling clean.
Regardless of how you choose to clean up after your cat or dog, the first step is the same: Clean up the mess as soon as you notice it. Use paper towels or rags to soak up as much moisture as possible. Press down, blotting up the stain, rather than rubbing back and forth. Rubbing back and forth may seem to absorb more of the moisture, but you are actually pushing the liquid down into the carpet and underlayment. This can also cause the carpet fibers to untwist and bloom, which can ruin the look and feel of your carpet.
Once you have soaked up as much as possible, you are ready to clean. Your decision on what cleaning method to chose depends on a variety of factors.
The best carpet cleaner for pet urine depends on how fresh the stain is, how large an area you need to clean and your budget. If you have the ingredients on hand for one of the do-it-yourself methods of cleaning, it often makes sense to try those first. Do-it-yourself cleaning can be effective if you need to clean a small area and you catch the mess relatively quickly. The longer a stain sits, the more difficult it will be to remove the odor. DIY methods are less reliable and powerful than pre-made products.
Vinegar Solution
Vinegar and water is a common do-it-yourself pet stain remover. There is no doubt that it is an affordable option. The most common method to create the solution is to mix everything in a spray bottle and spritz, using a clean cloth to soak up the solution along with the mess. A vinegar solution is a low-cost method of cleanup. It can sometimes work well on hard surfaces, such as tile, although the smell of the vinegar can often be just as bothersome as the stain itself.
Hydrogen Peroxide Solution
Another common do-it-yourself solution for pet stains is a combination of hydrogen peroxide and liquid dishwashing detergent. The most common method is to use one teaspoon of liquid dishwashing detergent to one-half cup of hydrogen peroxide and sprinkle baking soda over the area that needs treatment.
Rub the baking soda into the stain with a rag or soft-bristled brush. Pour the hydrogen peroxide solution over the baking soda and rub again. Let soak for about 10 minutes, then use a towel to absorb as much of the liquid as possible. Once the carpet feels dry, finish up by vacuuming the area.
The drawbacks to this method include potentially bleaching your carpet or upholstery due to the hydrogen peroxide or needing several treatments to become effective.
Enzyme-Based Cleaners
If you decide to purchase a cleaner to remove your pet stains and odors, choose one that is enzyme-based. Enzyme-based cleaners break down the compounds in pet waste to more effectively remove odors. These spray solutions are available at big box stores as well as pet stores.
Read the label carefully when purchasing a commercial pet stain cleaning product. Some are designed for use as stain removers, while these products can get your carpet clean, it is unlikely that they will remove odors. Which can be very frustrating, because the odor will appear gone when you clean, but as the carpet dries the odor returns.
Although these are stronger than do-it-yourself preparations, you may still need to repeat the cleaning several times to remove the stain and odor. Plus, many contain oxidizers or bleach that can discolor your carpet, so it's important to be careful.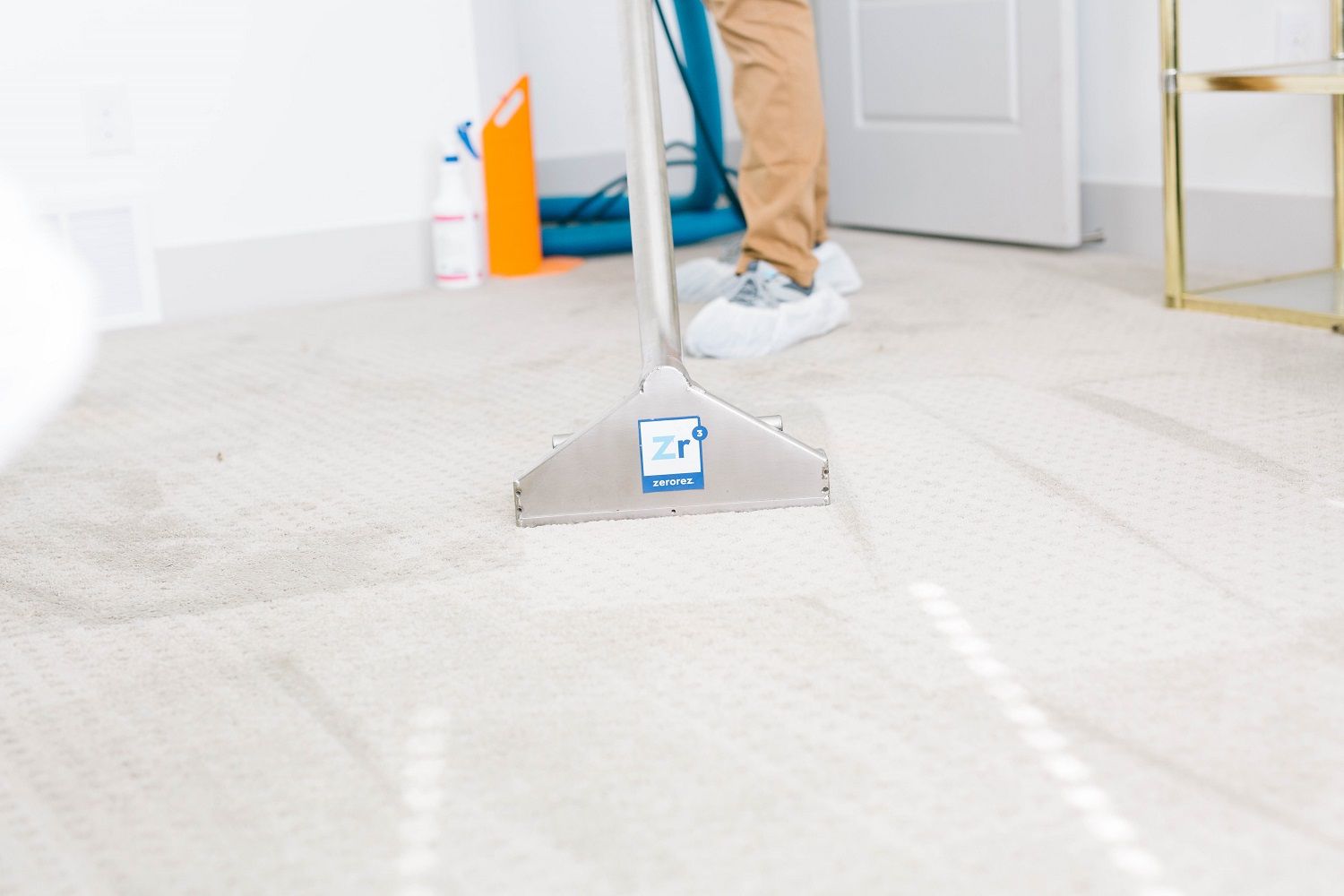 Professional Cleaning
There is no denying that pet stains are tough to clean up. The stain itself often comes up with a little elbow grease, but you often find that the odor remains. To remove all traces of odor, as well as ensure that all animal waste is gone, you may want to consider professional cleaning that offers a pet-safe chemical solution. A professional cleaner, such as Zerorez in Las Vegas, NV, will do a thorough cleaning without leaving any harmful residue behind.
Zerorez uses our patented Zr Clean™ cleaning system to clean carpets, upholstery, tile and other surfaces. We have processes that can address not only the surface stain, but the waste that sinks below the surface into the carpet padding or upholstery. Removing the underlying waste prevents the development of residue in the affected area. If you are looking for a pet stain removal company in Las Vegas, we encourage you to get in touch.
Zerorez works differently than other commercial cleaning services. Traditional carpet cleaners use a soap solution to shampoo carpet and upholstery. While this method typically does a good job of removing surface stains and leaves behind a perfumed, reasonably pleasant scent, your carpet may not be truly clean.
It is difficult to remove all soap when cleaning, and the solution left behind leaves a sticky residue that actually attracts dirt. More frustrating, once the perfumed scent fades, you often find that the pet odor remains.
Making the Right Choice
If you are moving in or out of a place with pets, have an older pet with continence issues, or you have finished house training a puppy, a trip from a professional cleaner will restore your carpets to like new condition.
For new puppies that and are just starting the house training process, it makes sense to have the ingredients on hand for cleaning up messes yourself. Once your pup catches on, a thorough professional cleaning that removes all waste odors and reduces the risk of your pup getting confused and re-soiling an area.
Deciding on the best stain remover depends on your situation. The most effective way to remove all odors and leave your carpet clean and fresh, with no residue, is using Zerorez's Zr Clean™ system. Learn more today.
Click here for a Guide to Cleaning Carpet Stains!
Markets