Thanks for printing! Don't forget to come back to Zerorez Carpet Cleaning for fresh content!
Zero Residue Carpet Cleaning
We believe that a healthy home starts with clean carpets. Nothing cleans more thoroughly, or protects your investment better than the revolutionary, patent-pending and green Zerorez cleaning system. Our professional technicians use the patent-pending Zerorez cleaning system to solve the industry's top concerns:
Reappearing traffic lanes and spots after cleaning; our system does not use soaps, harsh detergents or shampoos to clean, but instead, an innovative, non-toxic water based cleaning agent that leaves zero residue - zero residue means cleaner longer!
Wet carpets after cleaning; our system cleans without flooding your carpets with detergents and water, which means short dry times.
Trained technicians who are professional, clean and respect your home.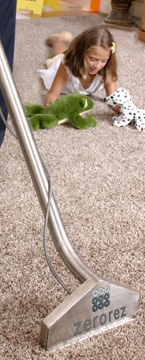 Zerorez is pleased to offer its state-of-the-art, revolutionary and patent-pending cleaning system. This unique cleaning system produces superior results, making it an excellent choice for soiled carpets.
Traditional steam carpet-cleaning uses heated water mixed with soaps, detergents and toxic chemicals that are injected into the carpet under pressure, which soak your carpets, pads and backing. Even though much of the soap, dirt and water are removed, a considerable portion of this mixture remains embedded in your carpet. As the carpet dries, this detergent attaches to the carpet fibers and literally acts as a magnet for dirt and other substances.
Conversely, the Zerorez cleaning system does not use soaps, harsh detergents or shampoos to clean, but uses instead a revolutionary, non-toxic water-based cleaning agent as its cleaning fluid, called Powered Water®, which cleans better than soap without leaving a sticky chemical residue behind.
Powered Water is applied to your carpet fibers by a patent-pending high-pressure, controlled spray system that loosens embedded dirt and removes it through our powerful and patent-pending extraction wand. Your carpet is clean without any soil-attracting residue and the dry time is dramatically reduced because we don't flood your carpets with water, unlike most other carpet cleaners. Our extraction wand combines the joint properties of fluid mechanics and pressure dynamics. This means that we clean down to the bottom of your carpets fibers—removing embedded dirt, soils, dried soaps (if previously cleaned by another carpet cleaner) and other debris.
Another great benefit of the Zerorez cleaning system is that spots are much less likely to reappear. Reappearing spots are often the result of wicking action from the back of the carpet to the tips of the carpet fiber as the carpet dries. We eliminate this and de-lamination (caused by conventional hot water extraction cleaning methods) because we do not penetrate the primary backing.
There is no one that cleans like we clean. If you want the best and highest quality carpet cleaning for your home or office, you can't beat our patent-pending cleaning process.
Zerorez has a Platinum Rating from CRI (Carpet and Rug Institute) the industry's highest rating! Remember—No residue means cleaner longer