What Could You Do in the Bay Area with $97.10
You're probably thinking, "$97.10? Why on Earth would you pick such a random amount?" Well, we ran the numbers, and on average, with our 30% off all services special this last week, our customers were able to put $97.10 back in their pockets for later use. So what could you do with an extra $97.10? Here are some ideas we came up with:

California Academy of Sciences Museum (San Francisco)
One of the largest museums of natural history in the world, this fantastic complex features a massive indoor rainforest bio-dome, an aquarium, a planetarium, and tons of other exhibits! With a budget of $97.10, you can get two adult tickets at $36.95 each and a yummy meal afterward, or one adult ticket and two child's tickets($26.95 each).

Monterey Bay Aquarium (Monterey)
This Massive non-profit aquarium is a must see! Filled with exciting exhibits showcasing sharks, octopi, penguins, otters, jellyfish, and so many other species of marine life, it's sure to captivate you for hours on end. It's located at the end of Cannery Row which is filled with amazing restaurants and fun shops for you to explore. On our budget, you could get one adult ticket ($49.95) and one child ticket ($29.95) with room for a meal, or for just a few bucks over the budget, you could get two adult tickets.

Little Mermaid Glass Bottom Boat Tour (Monterey)
This fun tour allows you to see the vast amount of marine life in the Monterey Bay right under your feet. At only $18 a person, you can bring the whole family! Stop at old fisherman's grotto for the best clam chowder on the Warf and explore all the unique shops nearby.

Ghirardelli Square (San Francisco)
This shopping plaza developed on the land for the original Ghirardelli chocolate factory is filled with unique shops and delicious restaurants. We recommend starting at the Ghirardelli Ice Cream and Chocolate shop and exploring from there.

Santa Cruz Boardwalk (Santa Cruz)
The Boardwalk has some amazing family-friendly events and activities to do depending on the time you go there. There are also rides open year round as well as other forms of entertainment like laser mazes, mini golf, rock walls, bowling, and much more. If you'd rather go exploring, check out the Santa Cruz mission and the restaurants around it, or escape at the digital-free Hidden Peak Teahouse and browse the selection of specialty teas other Asian antiques.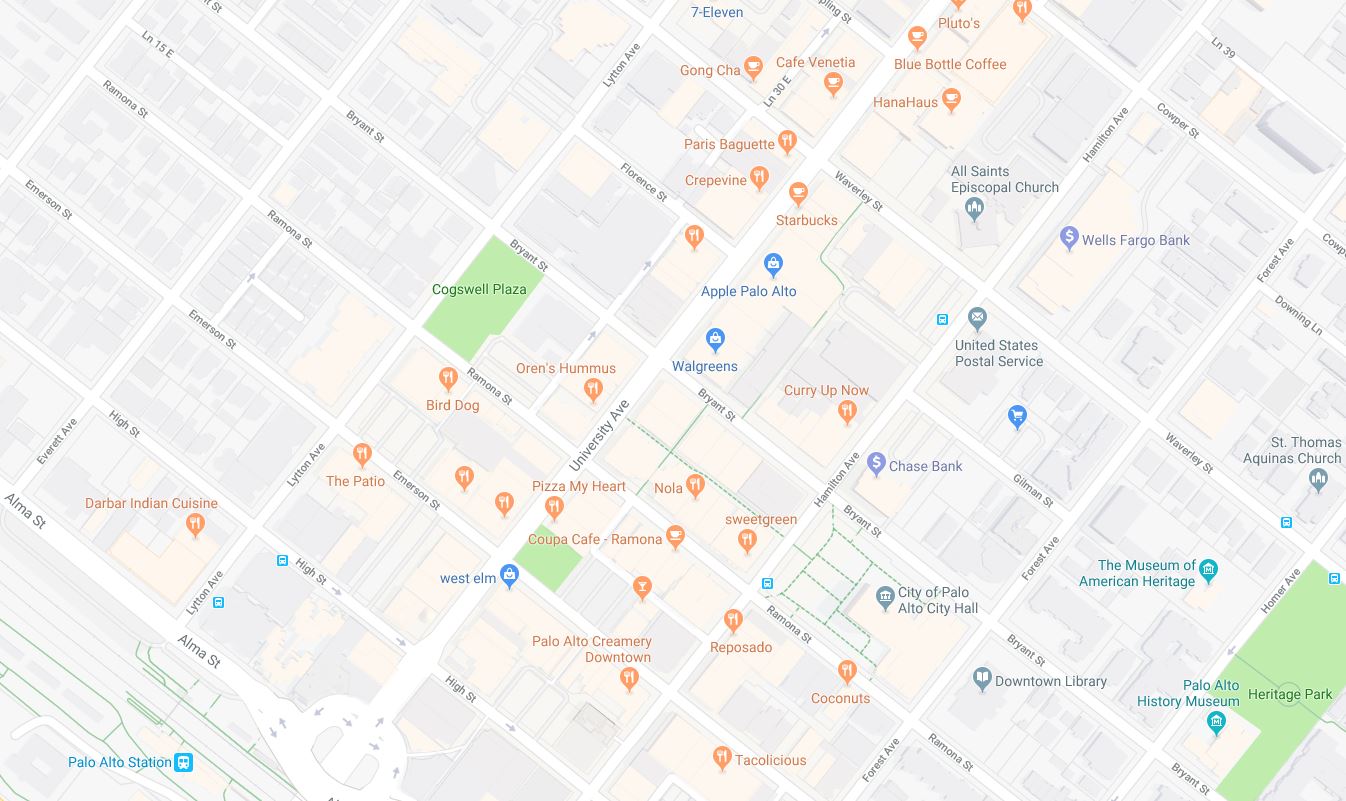 University Ave (Palo Alto)
University Ave has a fantastic food scene and is filled with high-end shops to explore. We love eating at Crepevine and Stopping at Cream afterward for one of their world-class ice cream cookie sandwiches.

Chinatown (San Francisco)
Photograph the Dragon Gate, visit the gift shops on Grant Ave., check out the fresh produce on Stockton St., and look for the herbal shops with Chinese doctors on hand to recommend natural remedies for just about any ailment.

Winchester Mansion Tour (San Jose)
Take a tour of this historical mansion with a paranormal twist. Adult tickets are $39, kid's tickets are $20. You can also bundle your mansion tour with the Explore More tour get $29 off each person's total.
San Francisco Zoo
Bring the whole family and check out the fantastic wildlife at this incredible zoo! Come with strollers for the kids and comfortable shoes on your feet because you're going to want to spend the entire day here! On our budget, you could get two adult tickets ($23 each) and 3 Children's tickets! ($17 each) Seniors and San Francisco residents also get a discount!

Golden Gate State Park (San Francisco)
The Golden Gate state park is a magnificent place to spend the day. Try renting a surry (a four-wheeled covered bike) to enjoy a ride on the bike trails with. 4-person surry Rentals go for $35-$45 on average, and with the rest of the money, you could pack and enjoy a picnic together as a family.

The Bay Area has so much to offer. You don't want to miss these experiences by being stuck at home cleaning! Let us help you save time and money by taking advantage of our 30% of all services offer and scheduling a tech to come and clean for you! With all that spare time and extra cash in your pocket, what will you decide to do?
Click here for 10 Cleaning Hacks to Jump Start Spring Cleaning!
Markets
Book a Cleaning with Zerorez® Today!