Carpet Cleaning Loveland
A Smarter, Lasting Clean™
Keeping Your Home Clean in Loveland and the Surrounding Areas

Traditional cleaners use harsh chemicals and soaps that leave behind residue, attracting dirt over time — the opposite of what you want after a cleaning. Our patented technology uses Zr Water® — it's soft water that's been electrolyzed and oxidized to extract dirt, grime and bacteria, keeping your carpets softer, safer, and clean longer.
Cleaning Surfaces that Matter Most
Cleaning Services Provided in Northern Colorado and the Following Surrounding Areas

Zerorez® Carpet Cleaning Loveland CO
Looking for carpet cleaning services you can count on? Zerorez® Carpet Cleaning Loveland CO is here to help you achieve a deeper, longer lasting clean. We take pride in our Zero Residue® cleaning service, giving you the best results. For those who are looking for more than just carpet cleaning services, no need to worry. Zerorez® Carpet Cleaning Loveland has a list of services that includes:
Carpet Cleaning
Upholstery Cleaning
Air Duct Cleaning
Area Rug Cleaning
Hardwood Cleaning
Tile and Grout Cleaning
And So Much More!
Upholstery Cleaning Loveland CO
Feeling like your furniture is looking dull or discolored? It can be hard to tell that your upholstery needs to be cleaned when the change in look or color happens gradually each day. That's why Zerorez® Carpet Cleaning Loveland suggests getting a professional upholstery cleaning at least once per year to maintain the look and feel of your upholstery. Bring the life and color back to your home with an upholstery cleaning from Zerorez®.

About Zr Water®
Experts in the Science of Clean™
Zerorez® treats and extracts surfaces with our proprietary "Zr Water®", an all-natural, high alkaline cleaning agent. Its ionized molecular structure breaks down dirt, grease, and odor-producing substances.

Zr Water® replaces the need for harmful soaps or detergents that traditional cleaners use. Without soapy residue bonding to carpet fibers attracting dust and dirt over time, your carpets dry faster and stay cleaner longer without soapy residue bonding to carpet fibers and attracting dust and dirt over time. You'll also notice that Zerorez® doesn't leave a strong chemical smell after cleaning; perfect for customers with chemical sensitivities.

Benefits of Carpet Cleaning in Loveland with Zerorez®:

Safe for kids, pets, and the environment; including individuals with allergies and asthma

No Residue means carpets are left soft, never crunchy

Shorter dry times - a few hours, not days
Book Your Appointment Now
Use our easy online scheduling tool to select your service, get your estimate, and schedule your service.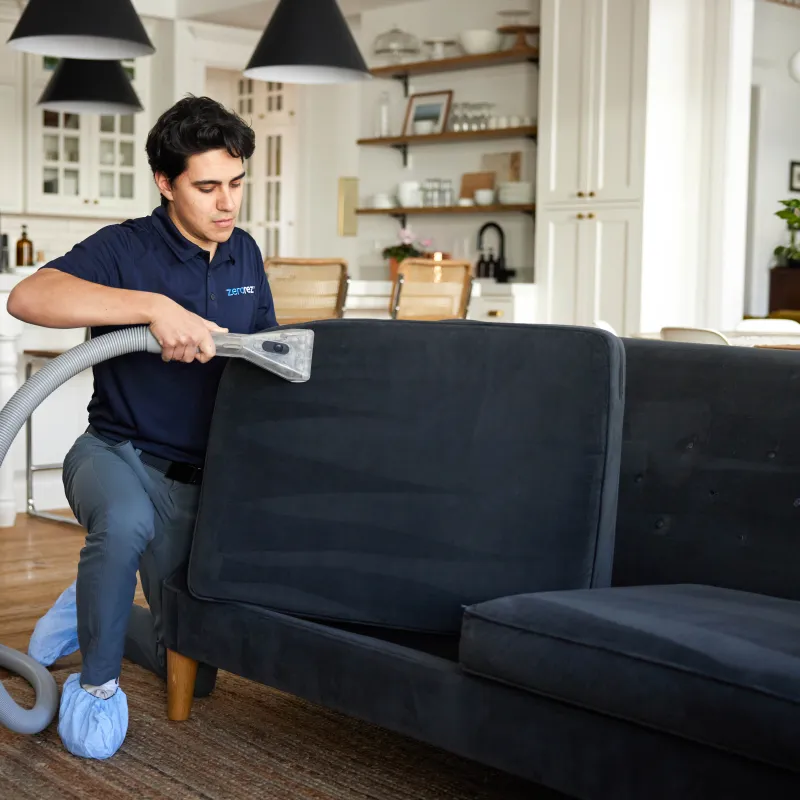 Carpet Cleaning Loveland CO
The surfaces that take up the most space in your home and receive the most use are also the most important to maintain. Your carpet is a big investment, so keeping it clean with a professional carpet cleaning is crucial to extending its life. With wear and tear happening on a daily basis, the best way to give your carpet the boost it needs is to schedule your next appointment with Zerorez® Carpet Cleaning Loveland.

Air Duct Cleaning Loveland CO
Zerorez® Carpet Cleaning Northern CO also offers air duct cleaning, because a home is not truly clean as long as the air remains dirty. With a Zerorez® air duct cleaning, not only will your air quality improve, but your home will stay cleaner longer. To schedule your next Zerorez® air duct cleaning, simply give us a call or book online today!
Carpet Cleaning in Loveland
A Clean, Healthy Home™
There's just something about a clean home that makes you feel… better. Would it surprise you to know that there are scientifically backed health benefits of a clean home?
Benefits include less mental stress and higher productivity. How about a better night's sleep? Nobody would be opposed to that one! Studies have shown that people who live in a clean home are more active, eat healthier, and to no one's surprise - get sick less often.
Zerorez® helps homeowners set the stage for their best living — free from worrisome chemicals and residue.