Carpet Cleaning Peoria
A Smarter, Lasting Clean™
Keeping Your Home Clean in Peoria and the Surrounding Areas

Traditional cleaners use harsh chemicals and soaps that leave behind residue, attracting dirt over time — the opposite of what you want after a cleaning. Our patented technology uses Zr Water® — it's soft water that's been electrolyzed and oxidized to extract dirt, grime and bacteria, keeping your carpets softer, safer, and clean longer.
Cleaning Surfaces that Matter Most
Carpet Cleaning Peoria, AZ
Carpets can only last so many years without proper care. When you go without regular professional carpet cleanings, your carpet can become matted and discolored, and it can develop holes from daily wear and tear. When you notice that your carpets are looking a little dingier than you remember, opt for a Zerorez® carpet cleaning in Peoria, AZ.
With innovative technology, we offer a GREEN solution to your carpet cleaning needs. Zerorez® Carpet Cleaning Peoria AZ doesn't use harsh chemicals, detergents, or soaps, which means your carpets don't suffer from that post-cleaning crunchy residue. Get a deeper, longer-lasting clean with Zerorez®!
Cleaning Services Provided in Surprise
and the Following Surrounding Areas

About Zr Water®

Experts in Clean™
Zerorez® Carpet Cleaning Peoria treats and extracts surfaces with our proprietary "Zr Water®", an all-natural, high alkaline cleaning agent. Its ionized molecular structure breaks down dirt, grease, and odor-producing substances.
Zr Water® replaces the need for harmful soaps or detergents that traditional cleaners use. Without soapy residue bonding to carpet fibers attracting dust and dirt over time, your carpets dry faster and stay cleaner longer without soapy residue bonding to carpet fibers and attracting dust and dirt over time. You'll also notice that Zerorez® doesn't leave a strong chemical smell after cleaning; perfect for customers with chemical sensitivities.

Benefits of Carpet Cleaning in Peoria with Zerorez®:
Safe for kids, pets, and the environment; including individuals with allergies and asthma

No Residue means carpets are left soft, never crunchy

Shorter dry times - a few hours, not days
Area Rug Cleaning Peoria
When it comes to home decor, area rugs transform the look of a home. Depending on the quality and material, many area rugs can be expensive, so it's important to make sure you protect your investments. With an area rug cleaning from Zerorez® Carpet Cleaning Peoria, you can feel confident that with each professional cleaning, you are extending the life of your area rugs!
Our Services
Zerorez® Carpet Cleaning Peoria AZ may be known for our amazing before-and-after with carpet cleaning, but our services extend beyond that! We believe in whole-home health, which is why in addition to our professional carpet cleaning services, we also offer a number of other services that will boost the health and feel of your home.
Book Your Appointment Now
Use our easy online scheduling tool to select your service, get your estimate, and schedule your service.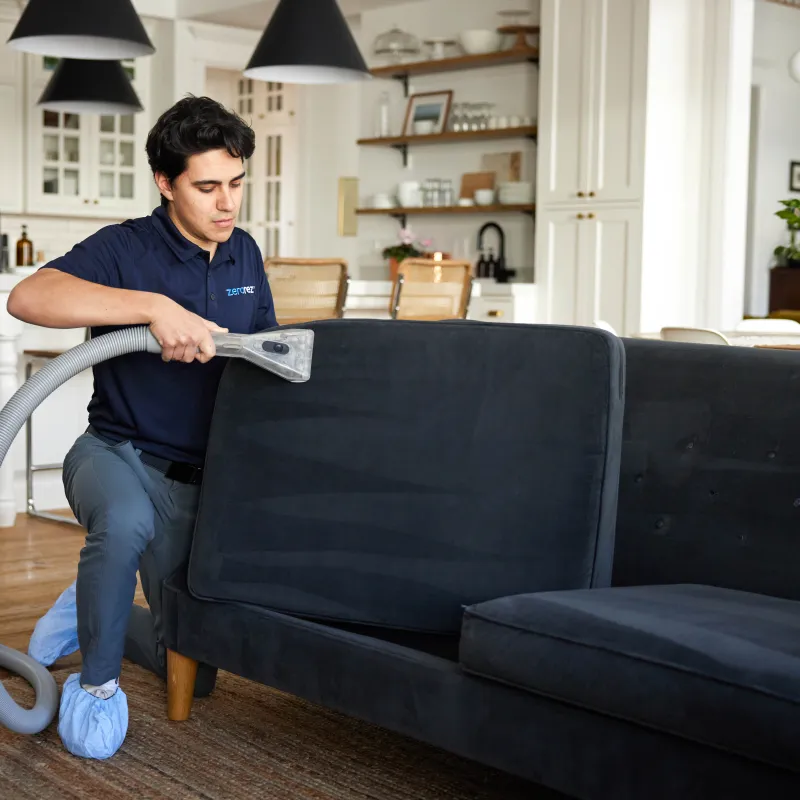 Upholstery Cleaning Peoria
Your couches and upholstery are some of the most commonly used things in your home. Each time you sit down after a long day, you deposit dead skin cells and oil from your skin, leading to dingy colors and a grimy feel. With an upholstery cleaning from the experts at Zerorez® Carpet Cleaning Peoria, you can revitalize your space by getting rid of the grime to reveal brighter, softer furniture.
Tile and Grout Cleaning Peoria
Did you know that natural stone tile has tiny pores across the surface? The reason your tile floors become dull and lackluster is that dirt finds its way into those pores, reducing the shine. No matter how often you mop and sweep, your home cleaning tools aren't able to reach the dirt hiding beneath the surface. Book a tile and grout cleaning with Zerorez® Carpet Cleaning Peoria to restore the life back into your floors once again!
Carpet Cleaning Peoria
A Clean Home is a Healthy Home
What makes Zerorez® Carpet Cleaning Peoria AZ different from other professional carpet cleaning companies? We use our Zr Water®, eliminating the need for harsh chemicals, soaps, and detergents. That means your carpet won't be left with a sticky residue, and your cleaning will last longer! Refresh carpets that have suffered from matting and heavy foot traffic. A clean from Zerorez® Carpet Cleaning Peoria can lead to brighter carpets and reduced allergens floating throughout your home!