Carpet Cleaning Kirkland, Washington
Carpet Cleaning

ZR WATER® CLEANER
ZEROREZ® is Kirkland's leading carpet cleaner because we are the only company that can clean carpet and other home surfaces with patented Zr Water®. Zr Water® is completely safe for your family and eliminates the need for harsh soaps, shampoos and detergents. This safe and effective cleaning process leaves zero soapy, sticky, dirt attracting residue behind so your home will stay cleaner longer!

Carpet Cleaning
Kirkland, WA
The Zerorez® cleaning process is beyond thorough. It has been lab-tested and proven to clean at the highest levels. Our special Zr Water® formula and patented cleaning system are able to remove unwanted nasties that are deeply embedded and trapped in the fibers of your carpet. When we clean, we leave behind Zero Residue®, unlike many other carpet cleaning companies. With a clean by Zerorez® carpet cleaning Kirkland, you can rest assured that we are using cleaning products and methods that are completely safe for you, your children, and your pets. And our technicians are experienced professionals that will make sure your carpets are cleaned properly, giving them a like-new appearance. Make that carpet cleaner today by requesting an appointment with Zerorez®!
Cleaning Surfaces that Matter Most
Experience Clean!
Contact us today to experience clean!

Benefits of Carpet Cleaning

Surprisingly, or maybe not so surprisingly, having clean carpets will improve the health and overall air quality of your home. Carpets are well known for holding onto dust particles, allergens, pet dander, and other nasties, keeping them out of the breathing zone. However, when those particles build up they go airborne, and can be especially concerning for the health of children, the elderly, or those with asthma, allergies, or other respiratory issues. When you vacuum, some of the allergens, dirt, and dust particles are removed, but to completely remove them calls for a professional carpet cleaning. People buy carpet because of the way it looks and feels. It is soft, and it is welcoming. But as dirt, dust, and other nasties build up in your carpet fibers, it can become matted. When this happens, it makes your carpet look old, worn, rough, and uninviting. An expert carpet cleaning will help keep nasties from wearing out your carpet fibers, keeping them looking fantastic and staying softer longer. For the particular benefit of improving the look and feel of your flooring, not just any professional carpet cleaning will get the job done right. Unfortunately, many traditional carpet cleaning companies use soaps, harsh chemicals, or detergents that leave behind a soapy residue that ends up attracting dirt and dust. The professionals at Zerorez® Kirkland have recognized this issue and come up with a solution. We use NO soaps, detergents, or harsh chemicals that will make your carpets dirtier in the long run. Instead, we use Zr Water®, an electrolyzed water that is powerful enough to clean better than soap and chemicals, yet safe enough to drink!

Experience Clean!
Contact us today to experience clean!

What Your Kirkland Neighbors Are Saying

Zerorez has been ranked the #1 cleaning system in the nation by an independent laboratory and has the highest Platinum approval rating from the Carpet and Rug Institute. We are a local Kirkland area company, and are proud to provide the best service and the best value to our community. Whether you need to take care of an urgent carpet cleaning issue or are looking for a routine maintenance cleaning, our skilled employees are here for you.
But don't just take our word for it, check out what your Kirkland area neighbors are saying about us and why we have over 9,500 4.9/5 Star reviews.

The carpets look amazing - even my high trafficked stairs and the house just feels fresh.

~ Nancy E. - Seattle
Zerorez was recommended to us by a carpet salesmen. He said, "you don't need new carpet, you just need Zerorez.". That's a true story. He was right!

~ Jerrie C. - Seattle
Kirkland, WA
In Kirkland, WA, Juanita Beach Park is a popular park and beach filled with adventure for people interested in so many different activities. The long pier that runs into the bay is suitable for walking, fishing, relaxing, and picture taking. Many people like to jog in this park, along the beach, and along the pier. Juanita Beach Park has excellent sand volleyball courts for the more sporty people. Where could you get a better view while playing a sport that you love? The park itself even has a big playground for children. The Wednesday and Friday Farmers Market is an event that draws many people in Kirkland and surrounding areas to Juanita Beach Park. Buy your fresh fruits and vegetables while enjoying the beach views, or even swimming! Photo by Jelson25 at https://commons.wikimedia.org /wiki/File:Aerial_Kirkland_Washington_November_2011.JPG

Experience Clean!
Contact us today to experience clean!

Gotta Love It Guarantee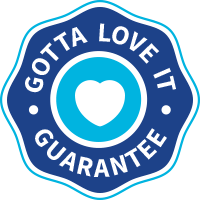 Customer service is extremely important to us. In fact, our company culture was created around the idea of going above and beyond for a truly fantastic customer experience. We want our customers to be 100% happy with every appointment. If there is ever ANY reason this isn't the case, we will come back to re-clean the areas you aren't satisfied with for FREE and make it right.